WOMEN CELEBRATED AT WOW CONFERENCE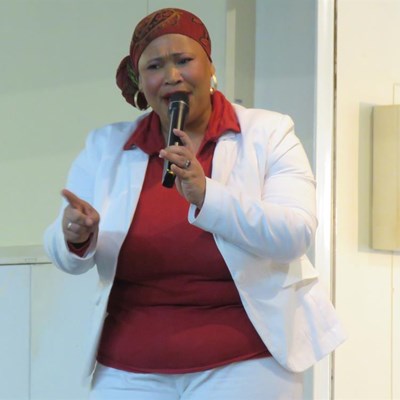 GEORGE NEWS – We are women of worth, strength and stature. This is how keynote speaker, Charlotte Roberts (Heartbeat FM presenter), motivated the women at the Women of Worth (WOW) conference at George Museum on Wednesday 8 August.
More than 100 women from George and Plettenberg Bay attended the conference that was aimed at celebrating women to commemorate Women's Day.
Click here for a photo gallery.
The WOW conference was organised by George Museum and the Living Language Foundation (LLF). George Museum's educational programme coordinator, Errol Jaftha, stressed the importance of celebrating women.
"The objective of the WOW conference is to express our appreciation to women for their love, sacrifice and caring nature."
The crowd enjoyed the poetry, drama and song performances by Lorrieta Hasley, Hakkiesdraad Hartman, Lwando Gotyi, Sinovuyo Gospel Choir and the Khoi-San group and cheerfully applauded all the performances.
Jaftha thanked George Municipality, LLF, all the performers for the quality entertainment, Department of Culture and Sport, and also George Museum for allowing the opportunity to host the event.